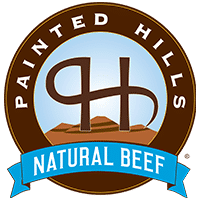 In the mid-1990's a group of ranchers in Wheeler County, Oregon started meeting to talk about the challenging cattle markets they were trying to navigate. They were frustrated with the fact they were raising quality cattle, but getting low prices for their hard work. Beef found in the grocery case was inconsistent and did not reflect the effort being put into their herds due to beef being mingled at the packing plants with other producers and being unidentified, "generic" beef.
Meeting in living rooms around Wheeler County for about two years, seven of those ranching families decided to take action in 1997 and Painted Hills Natural Beef was formed. The early days were difficult; funding operations, sourcing quality cattle, finding feeding facilities that would follow our protocols and specifications, partnering with small processing plants in the Northwest, finding logistics partners to transport the product in a suitable manner, developing markets, and then visiting store after store cooking beef and talking with consumers.  At times it seemed the challenges might be insurmountable, however, the reward was the very quick loyalty and appreciation from our customers.  
Our company quickly became known for its quality and consistency.  Stores were pleased with the personal service of ranchers who walked in their door to help sell beef and visit with their customers.  If there was a problem, typically it was one of the ranchers that picked up the phone or walked in the door to address the concern. Consumers purchasing in the store appreciated being able to speak directly to the ranchers and tasting the high-quality beef during store demos.  Our first slogan "Beef Like Grandpa Used to raise" came directly from these interactions.  We heard it over and over from customers as they sighed blissfully trying a sample of our beef.  
Many of those early stores are still purchasing our beef today, along with hundreds of other small, independent grocery stores that pride themselves on carrying quality, beef born, raised, and processed in the USA.
Seven ranching families still own Painted Hills Natural Beef today and comprise the Board of Directors, and a few are involved in the operations of the company every day.  Today we work with larger partners for production and logistics, but the level of quality we give is still the same.  We only provide superior beef raised without the use of hormones or antibiotics sourced from family ranches in the Northwest.  We are fortunate to operate with an exceptional team of loyal employees that go above and beyond to support our ranchers, partners, and customers every day and for which we are very grateful. Most of all, we couldn't continue without the support of loyal consumers who appreciate great beef and inspire us every day.
Keeping animal ethics and land stewardship top of mind has been our mission for over 25 years.
Our mission statement says it all:
That's why each Painted Hills producer is dedicated to creating a better beef product for you and your family from start to finish. The quality of care our ranchers devote to their land and cattle directly reflects a business tradition we're proud to live every day. The producers of Painted Hills are lucky enough to work alongside generations of our family daily as we provide beef products for your family dinners, local restaurants, and grocery stores.
The next time our beef products find a spot on your dinner table or in your shopping cart, we want you to think of the families and business dreams you're supporting. Meet some of the Painted Hills Natural Beef ranchers as they share about their ranch and what makes Painted Hills top tier.
The Painted Hills Natural Beef Way
raising beef at nature's pace
Painted Hills Natural Beef ranchers appreciate your concern for the welfare of animals and stewardship of our land. The ethics of humane animal husbandry and resource management are matters of importance that we are happy to share with you.
Our ranchers come from a long ranching tradition and live on their own land. The quality of care they devote to their land and animals reflects a tradition that has been handed down to them through the generations. These ethics run deep. It is the desire of each rancher and their families to maintain and give great care to our rangeland and natural resources. This isn't just a job, it's our life.
Respect for our animals
Humane treatment of our animals is of paramount importance to us. The care we give our animals begins at birth. Through meticulous documentation of breed, ownership, diet and veterinary history we ensure that our protocol of care and humane practices is followed throughout the animal's life. Each animal is born, raised and processed in the Pacific Northwest. We believe in ranching practices that demonstrate respect and concern for our animals.
Throughout their lives, our animals are provided with plenty of clean water and food in a manner that does not require undue competition. We do not feed any animal by-products to our cattle. They receive a 100% vegetarian diet throughout their lives.
Occasionally, an animal does become ill for one reason or another. At that time, the affected animal is given treatment and promptly removed from our program.
Painted Hills Natural Beef gives its animals extra care all throughout their lives, and that care translates into safety and natural health in our beef. It also translates into outstanding flavor, texture and overall food quality.

This extra care extends to the standards of quality in the natural line feeding facilities that we have partnered with. Our cattle range freely on their family ranches until about fourteen months of age. They are then moved to a clean and spacious feeding facility. Y-1 Farms in rural Vale, Oregon is one such partner. Y-1 grows the majority of its own corn. Working with a cattle nutritionist, these partners feed the cattle a completely balanced and highly nutritious diet that includes corn, alfalfa, wheat and various food by-products.
Our natural cattle are fed twice a day, which keeps the feed fresh. They always have plenty of clean, chemical-free water. There is approximately one full acre for every one hundred animals, with plenty of ranging room and high ground. In the summer, sprinklers are turned on for the cattle so that they are kept comfortable and hydrated in the heat of the day. Our cattle are given nutritional supplements including Vitamin A and a double-dose of Vitamin E. Vitamin A and Vitamin E help strengthen natural immunities, and help our beef to retain its freshness – naturally.
Our Commitment
We are committed to the high standards of quality in selecting, raising, feeding and processing our beef; it is the foundation of our brand. That's why we do things the way we do. We understand that quality care translates into safe and quality meat – and that's important to us.
We are honored to be invited to your family dinner table. Whether we're fixing fence or cutting hay, the hard work that we put into managing our ranches is done with your breakfast, lunch or dinner table in mind. Each time you buy Painted Hills Natural Beef, you are directly supporting independent ranchers who work hard to preserve the ranching tradition that is a way of life for us, our animals, and our rangeland.
We hope you enjoy!
never given Antibiotics, no added Hormones, Natural Beef
Check out our Beef EDU resource for all your frequently asked questions about the industry, cooking beef, Painted Hills Natural beef, our ranchers, the way cattle are raised and more. 
Painted Hills Natural Beef, Inc.
PO Box 245
600 Stone Cabin Court
Fossil, Oregon 97830
Toll Free: 877.306.8247
Phone: 541.763.2333
Chief Operations Officer: Will Homer (ext. 322)
General Manager: Glenda Homer (ext. 325)
Controller: Gabrielle Homer (ext. 326)
Marketing Support: Kayla Bernard (ext. 327)
Inside Sales: Melissa Carnine (ext. 330)
Operations Specialist: Micha Urbach (ext. 333)
Office Specialist: Tracy Lewis (ext. 321)
Accounting Assistant: Holly McDermott (ext. 324)
Administrative Assistant: Lisa Greene (ext. 323)
Intern: Trey Homer (ext.329)
Washington Territory Sales: Scott Mertens